12/8/2020
by Grady Gausman
As the prevalence of Microsoft Teams migrations continues to grow as part of a broader tenant-to-tenant project, we're expanding the feature capabilities of MigrationWiz to support different components of Teams.
With the December 2020 release, MigrationWiz now supports the migration of OneNote notebooks and tabs associated to specific Teams.
In this article, we provide a brief overview of changes to project flow in MigrationWiz as well as a short demo of this new component. For detailed step-by-step instructions and use cases, read our updated Teams migration guide in the BitTitan Help Center.
Background on OneNote
A OneNote notebook is created for each SharePoint Online Team site. OneNote notebooks are stored as a Folder in SharePoint, with each section being a File. Each SectionGroup is a folder inside the OneNote Document Folder.
With respect to Teams, there are three types of OneNote notebooks:
The default notebook in the Team/Channel
A notebook in a different Team/Channel
A notebook stored in a personal OneDrive
MigrationWiz supports the migration of notebooks and tabs in the first two bullets, though we do not migrate nor recreate tabs for personal OneNotes stored in OneDrive and linked to Teams (we do support the migration of notebooks on OneDrive as part of a standard document migration).
Migrated OneNote contents include section, pages, titles, and tables, as well as permissions if specified during project setup. This includes notebooks in both public and private Teams.
Migrate OneNote with MigrationWiz
In the Start Migration flyout for Teams projects, users will now see options to migrate OneNote notebooks and tabs from that UI.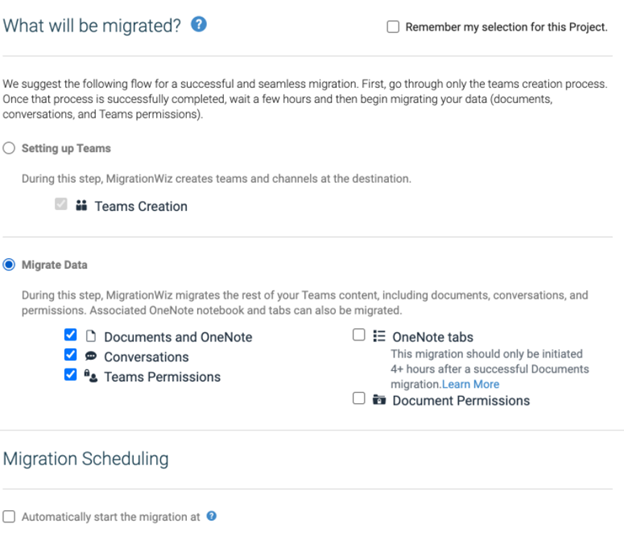 Note that a successful "scaffolding" pass of Teams and Channels must be run first as is standard for all Teams scenarios. Once that pass is complete, the data migration can begin. Users must first migrate Documents and OneNote notebooks successfully before initiating a subsequent pass to migrate Tabs. OneNote tabs cannot be migrated independently without migrating Documents.
Demo: Teams OneNote Migration
Here is a short walk-through from BitTitan Senior Technical Sales Specialist Lauren Brunson on this feature. For a deeper look, read through our Teams migration guide.